AquaMate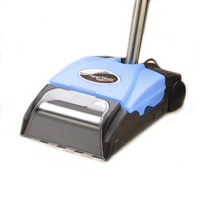 Maximize your Rainbow's cleaning capability with the AquaMate. Using the natural cleaning power of water and our specially formulated AquaMate Carpet Cleaner solution, the AquaMate's wide-angle revolving brushroll massages deep into carpet fibers for a thorough cleaning and rinsing.
Easily removes non-vacuumable stains caused from grease, oils, spills and pet stains.
Cleans, reconditions and deodorizes your carpets.
Dries quickly.
Maximice la capacidad de limpieza de Rainbow con el AquaMate. Mediante el uso de la potencia limpiadora natural del agua junto con nuestra fórmula especial del producto de limpieza para alfombras AquaMate, la escobilla giratoria masajea profunda y ampliamente entre las fibras de la alfombra para una limpieza y enjuague completos.
Elimina fácilmente las manchas causadas por grasa, aceite, derrames de liquido y las manchas que dejan las mascotas.
Limpia, restaura y desodoriza las alfombras.
Las alfombras se secan en poco tiempo.